On this page you will find a description for most terms used in the catalogue and characteristics of our products. Please take a moment to read through this page which will assist your understanding of our products and our capabilities.
For more details on the products descriptions please see the attached acronym chart.
Standard Pressure Stopcocks
Large Bore
A Stopcock with flow path of 2.9 mm in diameter. Especially suitable for anesthesia applications.
Standard Bore
A Stopcock with flow path of 2.0 mm in diameter.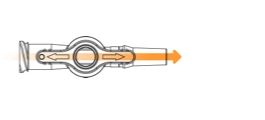 1 Way
Stopcock with two ports, "closed" or "open" position only.
2 Way
Stopcock with 3 ports and 2 positions. This Stopcock has a long arm with 900 rotation.

3 Way
Stopcock with 3 ports, a long arm handle of 180o rotation. Not allowing an "all open position".

4 Way
Stopcock with 3 ports, long or T handle, of 360o rotation, allowing all flow possibilities.

T Handle
3 Arm handle, used with both standard and large bore products. A T handle is used only with 4 way stopcocks.

Long Arm Handle
1 Arm handle, can be used with both 3 and 4 way stopcocks. The handle can be supplied in low or high profile design. The high profile handle (also referred as XL) is also available with an alternative GXL design. The high profile handle is more ergonomic than the low profile handle, where the low profile handle has the advantage of being a smaller product.

2 Arm Handle
2 Arm handle, used with 1 way stopcocks, available in both high and low profile.
Handle Position
Handles can be positioned essentially in 4 different positions - above each body port and at the back ("all open position"). One should choose the handle position according to purpose and sterilization needs.
Polycarbonate
Elcam can provide its stopcocks in a wide range of grades of this high performance, lipid resistant, material. Available in a variety of grades, specifically selected to tailor our products to your different needs and applications, whether it is an ETO or gamma sterilization compatibility or solvent bonding durability.
Polysulfone
A body material designed for lipid resistance solutions. E.T.O and gamma sterilization compatible.

Long nut
A lock nut rotating around the Stopcock male collar without any back and forth movement (mainly used in USA and Far East).

Short nut
A lock nut rotating around the male collar but also sliding back and forth on the male collar (mainly used in Europe).

Luer slip
A Stopcock having no lock nut mechanism on it's male port. Usually used to bond tube on the male port, see "tube fitment".

3 female
A Stopcock having 3 female ports and no male port.

A Stopcock having either its male or female port designed to accept a tube bond (tubing pocket). Available in a variety of dimensions.
A product treated with gamma radiation assuring maximum sterility for future use.
Manifold
Manifolds are available in 2, 3, 4 and 5 gang models.
Color Sequence
One should choose the color sequence of the handles according to purpose of use. The color sequence is defined by looking at the manifold when the female ports are pointed towards you. For example: the color sequence of the manifold in the picture is BWR (Blue-White-Red).
The right port can be female or male with luer lock nut.
Hight Pressure Stopcocks
The 3 way stopcocks are available in 2 configurations: "OFF" handle: handle arm indicating closed flow path. "ON" handle: handle arm indicating open flow path.
A bonded male luer-lock adaptor that enables the physician to rotate the catheter freely without twisting the tubing behind the stopcock.
Accessories
Perfectly designed to cover or seal the female ports of all our products. Protectors for female ports are available in 2 models: extended and recessed.

Extended
The protector's spigot extends beyond the thread, therefore the luer leads the protector easily to a female port upon assembly.

Recessed
The protector's spigot is recessed in such a way that when the protector is placed on a tray with the luer downward, the spigot has no contact with the tray and therefore remains sterile.
The protectors are available in vented or non-vented (sealed) configurations. Vented protectors are used to enable ETO sterilization.
Male and female protectors assembled as one piece creating a spare part unit.