Elcam believes that being a socially responsible medical device company in today's world requires a holistic attitude, a balance between providing the best clinical outcomes for patients and caregivers, while maintaining a positive impact in all areas comprising the company, including workforce, environment, economics and community.
Customization and Tailor-Made Adjustments
MedAccred
Elcam has recently received the MedAccred accreditation for plastic injection molding processes for its Israeli sites, and has become the first company in Israel to be awarded this accreditation.
MedAccred is an industry managed, consensus-driven approach for ensuring critical manufacturing process quality throughout the medical device supply chain. In today's world of global manufacturing, the supply chain is multi-tiered and geographically remote, making oversight challenging and costly. To prevent output deficiencies, critical processes and products must be validated during manufacturing to prove that they are fit for purpose, satisfy customers' and regulatory requirements and reduce overall risk. The MedAccred accreditation is unique because it is industry driven and managed. Its subscribers are the top tier medical device companies such as Bausch Health, Baxter, Becton Dickinson, Boston Scientific, Edwards Lifesciences, Johnson & Johnson, Medtronic, Philips, Roche Diagnostics and Stryker. These companies fund and manage MedAccred, determine audit criteria, have full access to audit findings, and determine who is granted accreditation.
Israel Dembus, Elcam's Chief Quality & Regulatory officer shared: "Elcam decided to obtain the MedAcrred accreditation based on our understanding that this accreditation is a growing trend in improving the medical device industry quality standards, which will help us better serve our customers and partners. The accreditation validates that we maintain the highest quality standards for our products and ultimately helps assure patient safety."
Elcam intends to continue the accreditation process and to receive accreditation for all applicable production processes in all worldwide sites during the next  2 years.
MedAccred certificate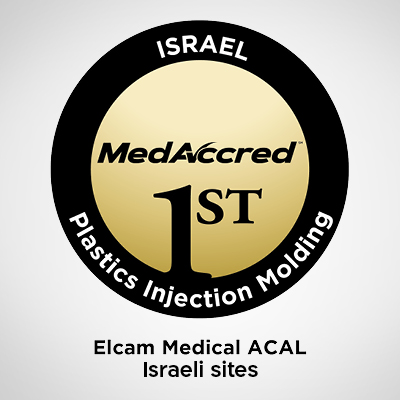 Ecovadis
Ecovadis
Elcam Medical was recently awarded a Silver Business Sustainability Rating by Ecovadis.
EcoVadis provides holistic sustainability ratings service of companies. The EcoVadis Rating covers a broad range of non-financial management systems including environmental, labor & human rights, ethics and sustainable procurement impacts. Each company is rated on the material issues as they pertain to their company's size, location and industry. These evidence-based assessments are refined into easy-to-read scorecards, providing zero to one hundred (0-100) scores, and medals (bronze, silver, gold & platinum), when applicable. Additionally, the scorecards provide guidance on strengths and improvement areas, which the rated companies may use to focus their sustainability efforts and develop corrective action plans to improve their sustainability performance.
Hadas Eisenberg, Elcam's Sustainability officer explained: "Elcam chose to be rated by Ecovadis as part of our belief in the importance of ESG (environmental, social and governance) and sustainability as well as our approach to maintain and keep improving high level customer experience.
We are proud to share the recent silver rating we received from Ecovadis. Elcam scored in the 78th percentile of all companies in our industry that were rated by Ecovadis and we aim to continue and improve our score over the next years".
Our Corporate Responsibility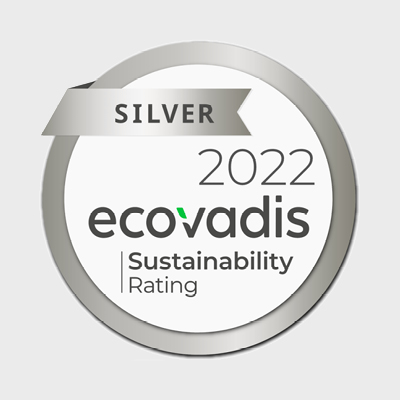 Closed stopcocks contribution to reducing infection rates
Closed stopcocks contribution to reducing infection rates
In a recent article (February 2022) of the APSF (Anesthesia Patient Safety Foundation) Newsletter, Dr. Elliot S. Greene wrote about 'Challenges and Solutions for Reducing Infection Risks When Accessing Vascular Catheters' and discussed the contamination and infection risks when using disinfected DNCCs (Disinfectable Needleless Closed Connector) and OLS (Open Lumen Stopcocks). In his notes he wrote: "The current literature supports that disinfected DNCCs should be used instead of OLSs based on the following premises: the documented overall lower contamination and infection risks of disinfected DNCCs compared to OLSs and the recent SHEA recommendations that "stopcocks used for injecting drugs should ideally be closed with needleless injection ports." To reduce infection-related patient risk, vascular catheters used for medication or fluid administration, or blood withdrawal, should be routinely accessed via either disinfected DNCCs or via disinfected DNCC-stopcocks. Compliance with disinfection is essential. For DNCC-stopcocks, the DNCC should preferably be bonded to the stopcock injection lumen to eliminate removal and bypassing the DNCC. Current studies support that blood samples from arterial tubing sets be obtained via disinfected DNCC-stopcocks instead of OLSs. Manufacturers should supply IV and arterial transducer tubing sets with DNCC-stopcocks instead of OLSs and there should be DNCC-stopcocks made available as single packaged items."
Elcam's Closed swabbable Stopcock and Marvelous™ Stopcocks are both DNCC stopcocks that present many advantages to both clinicians and patients for helping reduce infection risks.
The Closed Swabbble Stopcocks are DNCCs as described by Dr. Green – Stopcocks integrated with a swabbable luer activated valve (i.e, disinfectable needleless closed connector) allowing for maintenance of a fully closed system through the entire use of the stopcock, as well as eliminating needle stick injuries when using a stopcock. This integration also reduces the stopcock's residual volume in comparison to standard stopcock with attached LAV cap.
As for the Marvelous™ stopcock– this unique product carries more advantages as in addition to being closed & swabbable it also has a proprietary flow channel feature specifically designed for IV administration and pressure monitoring applications, allowing to continuously flush drugs and blood residuals, without the need to expose the system to the open air, assuring minimal residual volume and further reducing infection risks.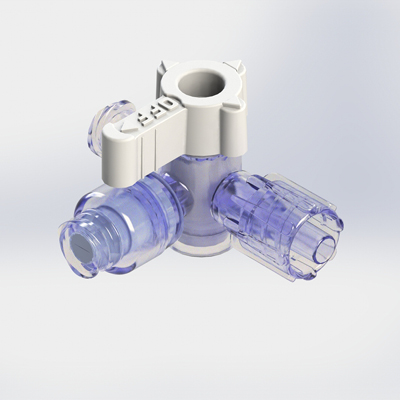 Back to face to face
Back to face to face
It looks like the Covid – 19 is moving away and Elcam is very happy to be able to return to in- person meetings.
Over the past 2 years many of us have spent a lot of time apart, away from our normal lives.  For Elcam, our business model has always been relationship-driven, but the pandemic largely put a halt to in-person customer meetings.  Just like our customers, how we are able to meet has changed dramatically since the beginning of Covid-19.
In some cases, the shift wasn't a totally bad thing. We've all learned how to use Zoom, Teams, Webex and other communication tools, and once everyone got comfortable with the technology, it was beneficial being able to meet with customers virtually.  Now as we are beginning to see the end of the pandemic, we are all trying to understand what meetings are supposed to look like in a post-pandemic world.  What will the new normal look like for businesses like ours that used to count on face-to-face interaction as a core part of how we work?
It's likely we will not completely return to pre-pandemic modes of conducting business – the conveniences of modern technology are just too great to abandon entirely.  On the other hand, we do not expect our business to stay strictly virtual.   We expect a hybrid approach to communicating with our customers, taking what we've learned during the last 2 years and applying it to our future business practices.
We at Elcam are always looking for a return to personalized service and we are looking forward to getting back to seeing our customers face to face.  As your situation changes, please contact your Elcam representative to schedule a meeting and we hope to see you face-to-face in the near future.
Stay safe and healthy
Best regards,
Igal (Guli) Kohn, CEO and General Manager
Exhibitions
Medtec China
31 August – 2 September
Shanghai, China
Hall 1 Booth 2H003
PDA Universe of Pre-filled Syringes
18-19 October
Palm Springs, California
Booth 308
PODD Partnership Opportunities in Drug Delivery
24-25 October
The Westin Copley Place, Boston
Compamed 2022
14-17 November
Duesseldorf, Germany
View several examples of Elcam's customized products