Partnership is an integral part of Elcam's business philosophy and actions as we believe in building and nurturing long term, stable relationships with our customers and partners, as well as in sharing risks, knowledge, and expertise, so we can grow and prosper together.
Partnering & Business Development
Partnering & Business Development
Growth is one of Elcam's values and it means for us being bold and innovative in new products, services and solutions. Elcam is invested in product innovation with more than 20 new ideas reviewed annually and over 7000 manhours devoted to screening new projects. We innovate together with our customers and partners in an effort to provide real solutions to real problems.
Understanding the needs and requirements for safe and effective medical care requires the expertise of healthcare professionals, clinicians as well as clinical specialists of medical device companies. Elcam uses its close cooperation with OEM customers, key clinicians and inventors to explore the medical market on an ongoing basis in order to stay up-to-date and committed to the medical market evolving needs and trends. Explore our review and development processes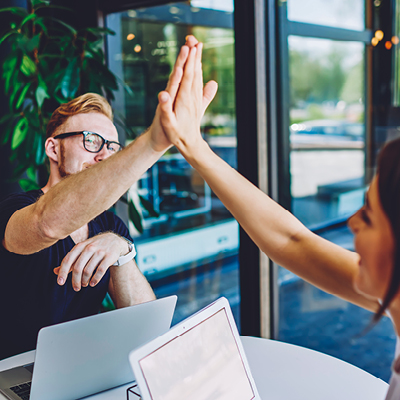 Elcam strives to enhance patients' and medical teams' safety. The two following examples show how our innovation is rooted in the unmet needs of the medical fields we operate in
SafeT™ Product line
SafeT™ Product line
The potential for Environmental Stress Cracking (ESC) is a well-known concern when plastics are used in medical device components. The use of lipids and other aggressive solutions can initiate microcracks in the polymer and compromise the material's mechanical integrity. Adverse events such as medication discontinuation, blood loss, air and bacteria ingress, as well as exposure of clinicians to hazardous drugs and bodily fluids, are all potentially dangerous events that may result from ESC and need to be prevented as much as possible by safety guidelines and smart products. One way to decrease the incidence of ESC is to use more resilient raw materials as did Elcam with its SafeT™ product line.
Elcam Medical's Tritan™ integrated SafeT™ Stopcocks and Connectors provide safer treatment through enhanced lipid and chemical resistance.
Tritan™ is a new-generation copolyester that has been shown in bench-top testing to be resistant to a large spectrum of medical fluids such as oncology drugs, lipids, drug carrier solvents, and nutrition.
The SafeT™ stopcocks have been tested and proven to be resistant to 10 different drugs including lipid and other aggressive substances and IPA (isopropyl alcohol).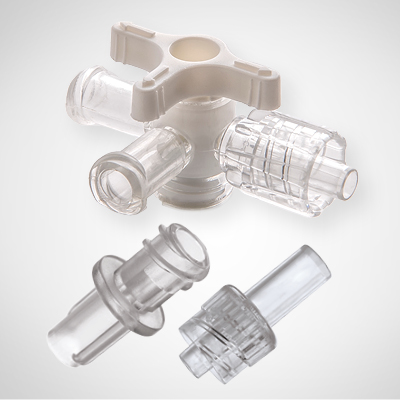 NRFit Products
NRFit Products
Luer connector misconnections are under-recognized, but common and potentially dangerous events. The objective of the ISO 80369 Standards is to prevent these adverse events and improve patients' safety. The ISO 80369-6:2016 Standard, is part of the 80369 series and affects devices for neuraxial applications such as epidural devices, pain medication pumps and their administration sets, regional anesthesia catheters and needles. Elcam has taken a proactive approach to the implementation of the new ISO 80369 standard regulations and currently has products that comply with the different parts of the standard (-3, -6, -7). Our Neuraxial (NRFit) products are compliant with the new ISO 80369-6 standard. They include the NRFit stopcocks and both male and female ISO 80369-6 connectors. The connectors are also available with clear Tritan™ material from Eastman, providing further advantages of improved lipid resistance and the benefits of not containing BPA.
Read more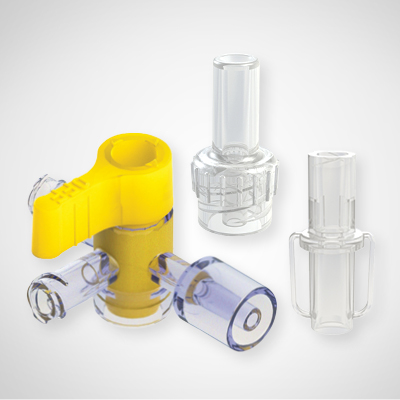 Team news
Team news
Tomer Gil, of Elcam Business Development and Marketing team is relocating to our US office in Hackensack, New Jersey. Tomer has been with Elcam since 1993, first as an engineer in R&D department and during the last 15 years as a Marketing Director. Tomer will continue to fulfil all his former tasks from the US and will also take charge of US business development activities. Join us in wishing him a smooth transition and much success in his new role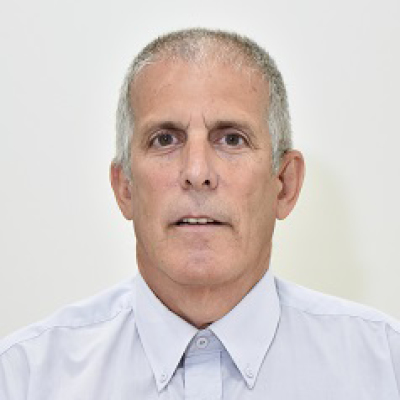 Notification regarding discontinuation of raw material
Notification regarding discontinuation of raw material
Last year LyondellBasell announced the discontinuation within 2023 of its polypropylene material Purell HP 371-P.
Over 400 codes from Elcam Italy's product portfolio are involved. Elcam Medical started and almost completed a replacement program, with the Borealis polypropylene Bormed RF830MO. For some product families, like Caps and Clamps, Elcam will offer further alternative with the new LyondellBasell polypropylene Purell HP 373-P.
The replacement of the materials will take place throughout 2023.
Elcam strongly recommends our customers who use our products made of Purell HP 371-P to anticipate this changeover at earliest possible. This may enable us to offer the same components made of alternative equivalent polypropylene materials.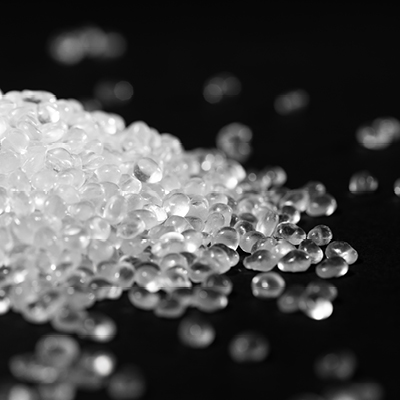 Stay safe and healthy
Best regards,
Igal (Guli) Kohn, CEO and General Manager
Exhibitions
PDA Universe of Pre-filled Syringes
18-19 October
Palm Springs, California
Booth 308
PODD Partnership Opportunities in Drug Delivery
24-25 October
The Westin Copley Place, Boston
CPHI 2022
1-3 November
Frankfurt, Germany
Booth 30J43
Compamed
14-17 November
Duesseldorf, Germany
Hall 8a Booth E28
Medtec China
7-9 December
Shanghai, China
Hall B1 Booth H003